It's time for Sweet of the Week! Leave a comment letting us know your favorite sweet and you'll be entered to win a $10 gift certificate Whipped Bakeshop. Contest ends Friday at noon EST.
Sweet #1: Nutty Monkey Cupcakes  Banana cupcakes topped with Nutella buttercream icing and poured chocolate ganache. And sprinkles. Can't forget the sprinkles. We have these goodies for sale at the bakery from time to time. Long live the Nutty Monkey!

Baking: Rebecca "The Musical Savant" Hauptman
Sweet #2: Camping Bears Cake
We made this as a gift to Brennen's step-mom Sue who recently retired from the Bel Air, MD courthouse after more than 30 years of loyal service to the community. Sue's hobbies include hiking miles and miles with Brennen's dad Jeff and crafting handmade bears. Let's hope we'll see Sue's adorable bears on Etsy sometime very soon. Congrats Sue!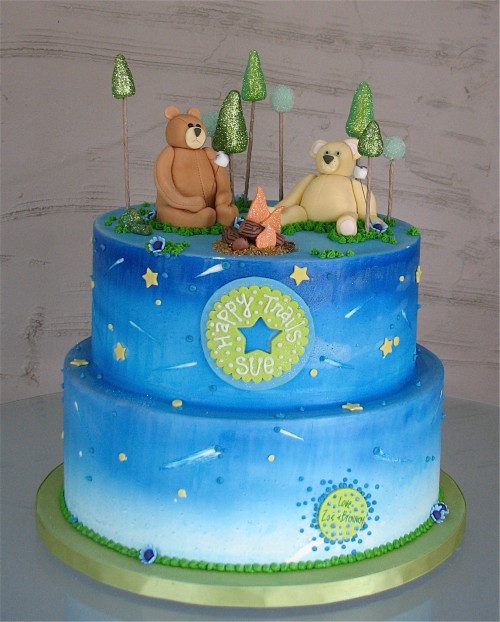 Design and decoration: Zoë "The Email Machine" Lukas
Cake construction: Casey "Trick Shot" Ray
Baking: Rebecca "Butter Hands" Hauptman
Sweet #3: Monogram Wedding Cake  Sometimes couples want a small ceremonial cake for cutting, adding cupcakes or other treats for their guests. This simply decorated little cake proves that size isn't everything.

Baking: Rebecca "Crazy Sifter" Hauptman
Decoration: Casey "California Dreaming" Ray
Design: Zoë "Not Yet a Cat Lady" Lukas
Which sweet is your favorite? Let us know right here!