This tall, elegant cake came with a bounty of sweet flavors. Half was banana cake filled with meringue buttercream, and the other half was chocolate fudge cake filled with truffle cream. The whole creation was iced with peanut butter buttercream. You could smell the peanuts from across the room! Don't worry, we provided a small extra cake in case anyone had an allergy.
The sugared winter fruit atop the cake is real. Fresh sugared organic bay leaves serve as accents.
It took several hours for our decorator Jenn Hall to hand-pipe the details. It is very difficult to pipe on a vertical surface because gravity tries to work against you, but Jenn makes it seem easy.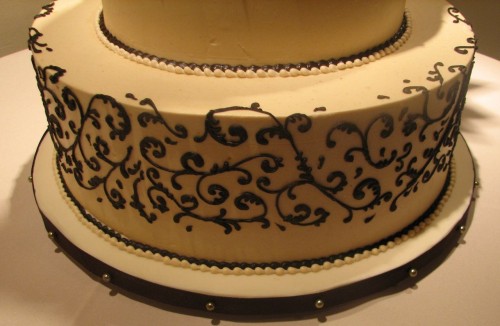 Originally, the cake was to have single piped borders at the bottom of each layer. However, the darker icing was bleeding slightly, so we added a second border to each tier for camoflage. Call it a happy accident! We'll probably end up using the double border on other cakes since it worked so well. Venue: Cairnwood in Bryn Athyn, PA Design: Zoe Lukas Construction: Casey Ray Decoration: Jenn Hall Baking: Rebecca Hautpman